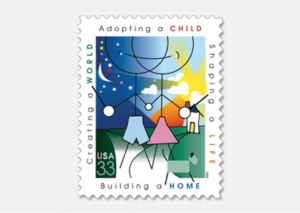 November is National Adoption Month
Adoption is multi-faceted. There are many different experiences—some uplifting and some disheartening. We don't expect it all to be seen through "rose colored glasses." This article represents a particular perspective. We want to honor all of your stories. If you'd like us to share your story, please reach out to us by phone or email. Thanks.
A Month of Thanksgiving:
Celebrating National Adoption Month
If there was ever a month well suited to celebrate adoption, it is November. Days are getting shorter, the air is cooler, but trees are filled with bright leaves and there is the sweet smell of cinnamon and pumpkin in the air. November is a time of warm feelings and gratitude. A time when many of us slow down a bit and appreciate the gifts of love and family and friendship. What a great time to pause and celebrate adoption.
And indeed, the celebrations are everywhere! Take a quick trip with Google and you will find that there are Adoption Month celebrations everywhere from Ottumwa, Iowa to Austin, Texas to Sioux Falls and Denver, Little Rock and San Diego, San Francisco and Terra Haute. Daytona Beach is celebrating adoptionand so is Florence, Arizona and Burlington, Vermont. And we are celebrating here in Massachusetts. Adoption is honored and acknowledged month long with November 18, the Friday before Thanksgiving, serving as the focal point of celebrations. It is the day that judges statewide will have the honor and privilege of building permanent families.
So how did it all happen? In many ways, we have our former governor, Michael Dukakis to thank. In 1976, he introduced the idea of an annual Adoption Week. President Gerald Ford later made the first National Adoption Week proclamation, and in 1990, the week was expanded to a month due to the number of states participating and the number of events celebrating and promoting adoption. Presidents Reagan, Clinton and George W. Bush each took steps to fortify the importance of National Adoption Month. Here in 2016, it is everywhere. November 5 is Adoption Night at the Museum in Lynchberg, Virginia. November 9 is Home for the Holidays in Conroe, Texas. November 18is Super Kids plus Super Families =Super Heroes in Odessa Texas. And the list goes on…
How might you as an adoptive family celebrate?
If you have young children, what you do is probably less important than the feelings you convey. Young children cannot fully grasp what adoption means but they do grasp and remember warm, loving, joyful feelings. For them, a happy family event of any sort identified as "our adoption day" or "let's celebrate adoption" will help fortify positive feelings about adoption.
If your children are a bit older—school age—then they are beginning to understand adoption. Encourage them to weigh in on how they would like to celebrate adoption day –or month. November is too cold for a lemonade stand but they might want to do their own little fundraiser, gathering together a donation for an adoption organization or a charity that resonates with them and with the spirit of adoption. Perhaps their fund raising efforts could be followed by dinner at their favorite restaurant.  Maybe you talk with them during dinner about how the day went? Whether they'd like to make it a yearly tradition.   Maybe dinner is followed by watching an adoption themed movie together?
Your teenagers have their own ideas about adoption and will surely have thoughts and feelings about National Adoption Day or Month. With them, you surely don't want to push something. Teens may be thinking more about their birthparents and if they are in touch, may want to do something for (or with?) their birthparents? Some teens may dismiss the significance of the day/month and say that it is just a "silly" way of publicizing adoption. As with so many other things, you should be prepared for a range of reactions from your teenagers including some reactions that may mask their feelings. If you are a family who established an Adoption Day/Month tradition years earlier, you may be grateful to have these traditions to count on. Your teenager may appreciate this tradition a whole lot more than he/she lets on.
As adoptive parents you may see Adoption Month as an opportunity.  In other months, your children may tire of you talking "too much" about how great adoption has been in your life, but in November, you have license to talk and to reminisce. November invites you to openly express gratitude to birthparents and to your child.
Whether your family celebrates Adoption Day, Week and/or Month or not, we believe that we should all give thanks for November. How nice it is that this annual time of giving thanks has been solidly linked—in legislatures, in courts, in news features and on line—with adoption.
<
Some New Groups are Forming at 

Adoption

 

Associates

:
Building Healthy Attachments in Your Family
A 6 week group/workshop beginning in January for parents of young children or adolescents.
Parenting Your Older Child, age 18+  
Starting in January, a once/month opportunity to talk openly with other adoptive parents about things like birth families, time to "let go", and more.
Please see our website or call our office at (617) 965-9369 for more information about our current groups. Please email us at info@adoptionassociates.org.